Polyethylene terephthalate – known under the abbreviation PET – is a thermoplastic synthetic material of the polyesters family entirely made with petroleum or methane gas.
WHICH ARE PET FEATURES?
Transparency and color stability

High impact resistance

Excellent anti-wear properties

Good chemical resistance

Lightness

Flexibility

Resistance to heat and thermal aging

Ductility and modeling

Recyclability
FIELDS OF USAGE
Its main features of cristalline transparency, lightness, ductility, high resistance and long lasting make PET a modern and innovative synthetic material and highly appreciated in various fields such as:
IN THE TEXTILE SECTOR
Most of the world production of PET concerns synthetic fibers (over 60%). It began to be used as a textile material in the 1950s. Its strength, temperature tolerance and wear resistance make it the perfect replacement or complement to natural fibers such as silk, cotton and wool.
WATER AND BEVERAGE BOTTLES
PET is also widely used in the production of bottles for mineral waters, soft drinks and fruit juices, carbonated drinks, cooking and table oils, sauces and condiments.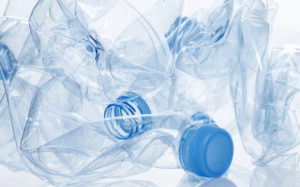 PACKAGING
Due to its characteristics and its ability to comply with the strict hygienic conditions imposed in the food, cosmetic, detergent and pharmacological sectors, PET is also widely used for the production of packaging and films. In fact, its high competitiveness in packaging compared to metal, ceramic and glass materials is known, due to the possibility of having: lower cost, lower weight, better transparency, greater resistance to shocks, greater design possibilities.
FURNITURE
Totally hygienic, practical and with a high resistance to scratches, stains, light, heat, as well as for its surface brilliance, PET has recently established itself in the world of home furnishings with the production of eco-friendly kitchens. sustainable, opening a revolution of thought and proposing itself as a real value alternative to PVC, a material so far most commonly used by furniture manufacturers.
THE RICICLABILITY AT 100%
Another valuable feature of PET is that this material has a low environmental impact and can be easily recycled, revealing itself to be a modern material also for its ability to respect the environment:
During incineration, PET releases only water, oxygen and carbon dioxide.

It can be 100% recycled while maintaining its main properties, and it can be transformed countless times for the creation of new products.

The transformation of PET saves 50% of energy, compared to the production of the new one.
PET is a totally recyclable product, which does not emit toxic substances into the environment and therefore respects health.
CAMEC PLANTS FOR PET RECOVERY
Among the CAMEC machineries and complete plants the ones realized for PET and plastic recycling treatment have surely a relevant place. The material, once introduced into the plant, is volumetrically reduced, shredded and finally pulverized.
Watch the video: (1) CAMEC PET Bottles Plant with GR280 – YouTube
For more information: Web: www.camec.net – Email: info@camec.net – Tel. +39-049-552115