CAMEC TECHNOLOGICAL SOLUTIONS
"Work hard in silence, let your success be the noise"
Ever since CAMEC was incorporated in 1993, we have always been known as "The Reliable Brand" recognized as a solid, dependable, and highly qualified manufacturer.
We never lose sight of our roots and we carry our Made in Italy legacy forward day after day on the international Recycling and Handling scene.
We are future-oriented, aware of where we're going and certain that CAMEC is the most reliable choice for our customers.
Three Divisions. Three Elements. Three Values.
The gear wheel is a nod to the world of mechanical and industrial construction.
It represents the precision, efficiency, and solidity that distinguish our approach to our work. It underscores our commitment to providing customers with top quality customized solutions.
The leaves symbolise the importance of sustainability and environmental care in our work.
We design and develop machinery and plants that allow the recovery and reuse of materials obtained from products at the end of their life cycle, making it possible to reduce their environmental impact.
The arrow not only represents our future-oriented trajectory, but also the constant achievement of the goals that CAMEC achieves day after day, underscoring the desire for growth and technological progress that has always been an emblem of our operations.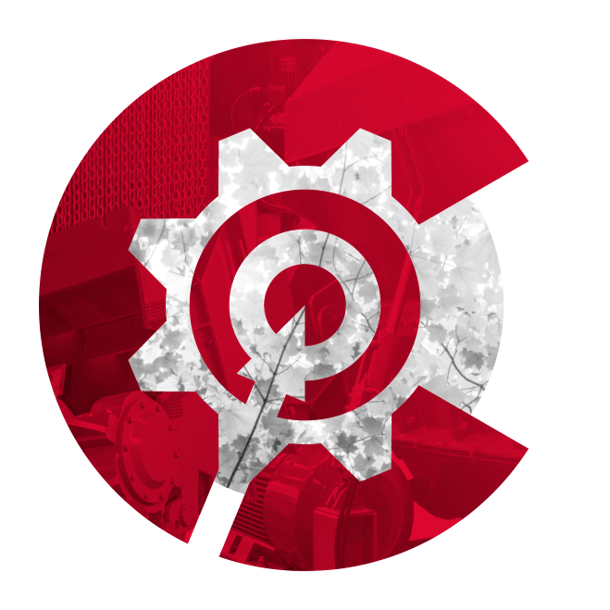 Our Areas of Excellence
Design & Build
CAMEC's complete plants for solid waste treatment and transformation are functional technological solutions, custom built to meet the needs of each client and to recover secondary raw materials of high purity and high quality.

Customization
Apart from designing and building turnkey plants, CAMEC offers a full spectrum customization service. This includes a vast range of solutions, such as feasibility studies, advanced 3D simulations, residual life assessment and revamping services.